Posted by Franky Kurniawan Written on 27 February 2020
---
Ipotnews - Aksi jual masif terhadap Indeks Harga Saham Gabungan ( IHSG ) berlanjut pada perdagangan hari Kamis (27/2). IHSG berakhir ke level 5.535 setelah melorot -2,69 persen (-154 poin).
Indeks LQ45 -3,24% ke 892.
Indeks IDX30 -3,24% ke 487.
Indeks IDX80 -2,87% ke 124.
Jakarta Islamic Indes (JII) -2,34% ke 579.
Indeks Kompas100 -3,00% ke 1.114.
Indeks Sri Kehati -3,18% ke 359.
Indeks SM Infra18 -2,88% ke 273.
Pasar saham Asia tenggelam di zona merah dan para pemodal hengkang menghindari risiko ke arah safe haven di antaranya ke market pasar obligasi. Sementara itu aksi jual masif berlanjut sehingga IHSG makin terpuruk.
Saham Teraktif: BBRI, MNCN, BBCA, TOWR, TLKM, BMRI, ANTM

Saham Top Gainer LQ45: MNCN, JSMR

Saham Top Loser LQ45: INTP, CPIN, ITMG, SMGR, TLKM, SCMA, ACES

Nilai transaksi Rp7,10 triliun. Volume perdagangan sebanyak 63,43 juta lot saham. Investor asing net sell -Rp1,05 triliun
Nilai tukar rupiah drop -0,75 persen ke level Rp14.030 terhadap USD (04.00 PM).

Bursa Asia
Pasar saham Asia tenggelam di zona merah pada tutup perdagangan hari Kamis (27/2). Harga surat utang rally ke level teritori rekor karena sinyal penyebaran virus corona secara global makin menguatkan ketakutan terhadap pandemi.
Otoritas Kesehatan AS memperingatkan bahwa dana pasar saham global yang amblas sudah mencapai USD3,6 triliun hingga penutupan perdagangan hari Rabu pekan ini. Hal ini seiring naiknya ketakutan terhadap pandemic virus corona.
Yield surat utang AS jatuh saat harga menguat. Yield US Treasury tenor 10 tahun tersebut jatuh di bawah level 1,3 persen. Spekulasi bahwa akan terjadi pelonggaran moneter di AS meningkat.
"Pasar hanya mendorong pemangkasan suku bunga the Fed," kata Stuart Oakley, Analis Nomura seperti dikutip Reuters. Kata dia, kabar yang muncul menjadikan histeria pelaku pasar di mana-mana seakan dunia akan berakhir. Jadi pelaku pasar keluar dari risiko dan menempatkan uang mereka ke safe haven dan salah satu yang terbesar adalah menyimpan di US Treasury tenor 10 tahun.
Di bursa Tokyo, Indeks Nikkei 225 finis ke zona merah, melemah paling dalam di pasar saham Asia Pasifik. Demikian pula dengan Indeks Topix turun 2,37 persen ke posisi 1.568.
Adapun bursa saham Korsel juga ke area pelemahan seiring tekanan pada Indeks Kospi. Bank of Korea (bank sentral Korsel) mempertahankan suku bunga acuan tetap di level 1,25 persen. Keputusan ini dinilai mengejutkan pasar karena diperkirakan akan memangkas suku bunga. Mata uang won melemah terhadap USD ke level 1.215,27 dari posisi sebelumnya di 1.212.
Indeks
Hang Seng
di pasar saham Hong Kong bergerak flat. Di sesi pagi Indeks
Hang Seng
berada di teritori negatif.
Sementara itu bursa saham China menguat saat akhir sesi perdagangan. Penguatan ini melawan arus dimana sebagian besar bursa regional melemah. Indeks Shenzhen Composite naik 0,24 persen ke 1.895. Indeks Shenzhen Component naik 0,32 persen di 11.534.
Bursa saham Australia melemah seiring tekanan terhadap Indeks S&P/ASX200 setelah terjadi aksi jual terhadap saham-saham bank.
Indeks MSCI Asia Pasifik (tidak termasuk bursa saham Jepang) melemah 0,3 persen.
Indeks dolar AS melorot ke level 98,908 dibanding level sebelumnya di posisi 99,051.
Kurs yen menguat ke level 110,13 terhadap USD dari posisi sebelumnya pada posisi 111,00 yen.
Dolar Australia melemah di level $0,6555 dibanding level sebelumnya sebesar $0,66.

Indeks Bursa Asia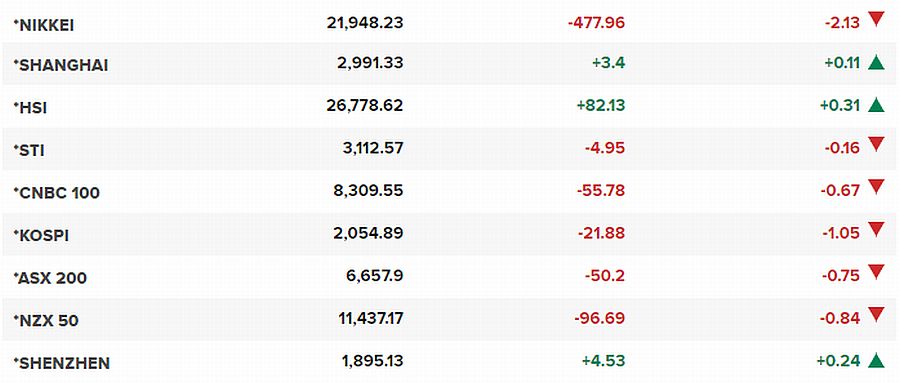 Bursa Eropa
Market saham Eropa tumbang saat menit-menit awal pada perdagangan hari Kamis (27/2) pagi waktu setempat. Pelemahan ini seiring penyebaran cepat wabah virus corona secara cepat terus mendominasi sentimen pasar. Indeks Stoxx 600 (benchmark pasar saham Eropa) turun 1,7 persen.
Indeks DAX (Jerman) -1,91% pada posisi 12.530.
Indeks FTSE (Inggris) -1,85% ke level 6.912.
Indeks CAC (Perancis) -2,08 di posisi 5.566.

Oil
Harga minyak melorot pada perdagangan hari Kamis (26/2) di sesi sore ke level terendah terhitung sejak Januari 2019. Pelemahan ini seiring pertumbuhan kasus virus corona di luar China yang terus bertambah. Hal ini membuat ketakutan semakin dalam terhadap perlambatan ekonomi global serta pelemahan demand oil.
Minyak Brent down 60 sen ke harga USD52,83 per barel (07.41 GMT). Sedangkan minyak WTI juga melemah 55 sen ke level USD48,18 per barel. Posisi harga Brent ke level terendah sejak 2 Januari 2019 dan minyak WTI ke harga terendah sejak 4 Januari 2019.

(cnbc/reuters//idx)

Sumber : admin
#YukNabungETF
#IPOTKaryaAnakBangsa
#BanggaPakeIPOT
#IPOTPionner