Posted by Franky Kurniawan Written on 30 January 2020
---
Ipotnews - Indeks Harga Saham Gabungan ( IHSG ) bertahan di teritori negatif pada finis perdagangan hari Kamis (30/1). IHSG terpangkas -0,91 persen (-56 poin) ke level 6.057.
Indeks LQ45 -1,31% ke 987. Indeks IDX30 -1,22% ke level 541. Indeks IDX80 -1,37% ke 137. Indeks JII -1,37% ke posisi 657. Indeks Kompas100 -1,29% ke 1.234. Indeks Sri Kehati -1,06 persen ke 394. Indeks SMInfra18 -1,29 persen ke level 305.
Saham-saham teraktif: BHIT, PURA, KPIG, REAL, MNCN, BCAP, TOWR

Saham-saham top gainers LQ45: CPIN, PGAS

Saham-saham top losers LQ45: UNTR, UNVR, INDF, ICBP, KLBF, BBCA, ADRO

Nilai transaksi mencapai Rp5,64 triliun. Volume trading sebanyak 61,61 juta lot saham. Investor asing membukukan jual bersih -Rp261,57 miliar.
Nilai tukar rupiah melemah -0,15 persen ke level Rp13.640 terhadap USD (04.00 PM).

Bursa Asia
Pasar saham dan pasar valas Asia terus melemah pada perdagangan akhir hari Kamis (30/1) seiring korban jiwa yang meningkat akibat virus Corona yang menyebar dari China sehingga maskapai penerbangan menunda penerbangan. Hal ini meningkatkan tekanan pada ekonomi China karena khawatir akan adanya pandemi.
"Ada tekanan pada aksi beli sehingga banyak alasan untuk melakukan aksi jual dan tidak ada alasan untuk aksi beli di pasar saham," kata Chris Weston, Analis pada Pepperstone (Sydney) seperti dikutip Reuters.
Menurutnya terdapat banyak kekhawatiran WHO sebagai penekan. Ketakutan bahwa mereka (WHO) mungkin meningkatkan peringatan sehingga pelaku pasar mengambil aksi ambil untung.
Para investor masih terus memantau perkembangan wabah virus Corona yang sedang berlangsung di China. China's National Health Commission menyatakan telah menyebabkan 170 orang meninggal serta menginfeksi sebanyak 7.711 orang, demikian seperti dikutip CNBC.
The Fed mempertahankan suku bunga acuan di kisaran 1,5 persen - 1,75 persen sebagaimana diperkirakan para analis. The Fed dalam pernyataan mengatakan faktor penentu kebijakan tersebut adalah perkiraan bahwa target inflasi dapat kembali ke level 2 persen selain faktor lapangan kerja yang tetap kuat. Sementara pertumbuhan ekonomi berlangsung moderat.
Chairman the Fed Jerome Powell mengakui risiko perlambatan ekonomi China bagi ekonomi global. Namun menurutnya terlalu dini mengatkan sejauh mana dampaknya terhadap AS.
Indeks Hang Seng melanjutkan pelemahan saat final perdagangan. Saham unggulan di bursa Hong Kong AIA turun 2,91 persen.
Pasar saham Taiwan longsor pasca libur Imlek dan kembali beraktivitas. Indeks Taiex di bursa Taiwan melemah 5,75 persen seiring pelemahan tajam saham Hon Hai Precision Industry (Foxconn) sebesar 9,97 persen. Foxconn merupakan raksasa manufaktur dan pemasok bagi Apple Inc.
Adapun market saham Tokyo juga terkoreksi setelah Indeks
Nikkei 225
tumbang di saat akhir sesi. Indeks Topix turun 1,48 persen ke level 1.674.
Di bursa saham Korsel, Indeks Kospi ikut tertekan sejalan tekanan terhadap saham unggulan Samasung Electronics yang turun 3,21 persen. Laba Samsung kuartal IV turun 34 persen dibanding periode yang sama tahun lalu.
Indeks S&P/ASX200 di bursa Australia melemah ke zona negatif dan Indeks MSCI Asia Pasifik (tidak termasuk bursa Jepang) turun 2,11 persen. Market saham China masih libur tahun baru Imlek.

Indeks Bursa Asia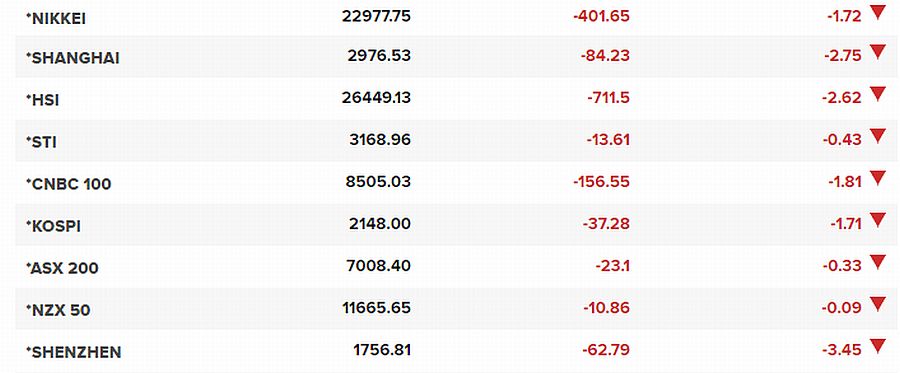 Nilai Tukar Asia Pasifik
Indeks dolar AS melemah ke level 98,04 dibanding sesi sebelumnya pada posisi 97,995.
Kurs yen menguat di posisi 108,89 terhadap USD dibanding posisi sebelumnya di 109,2 yen.
Kurs dolar australia melemah ke $0,6732 dibanding posisi sebelumnya di $0,676.

Bursa Eropa
Pasar saham Eropa ke zona merah saat menit-menit awal pada perdagangan hari Kamis (30/1) pagi waktu setempat. Gerak market Eropa terbebani sentimen meningkatnya korban wabah virus Corona serta reaksi terhadap kebijakan the Fed yang tetap mempertahankan suku bunga acuan.
Indeks DAX (Jerman) -1,13% pada level 13.193.
Indeks FTSE (Inggris) -0,98% ke posisi 7.410.
Indeks CAC (Perancis) -1,19% di level 5.884.

Oil
Harga minyak melemah pada perdagangan hari Kamis (30/1) di sesi sore seiring meluasnya peringatan dampak penyebaran virus Corona terhadap perekonomian di China. Sementara lonjakan stok minyak mentah AS menambah katalis negatif.
Minyak Brent drop 95 sen ke harga USD58,86 per barel (07.38 GMT). Sedangkan minyak WTI turun 84 sen ke level USD52,49 per barel.

(cnbc/reuters/awj/idx)

Sumber : admin
#YukNabungETF
#IPOTKaryaAnakBangsa
#BanggaPakeIPOT
#IPOTPionner